We've added polls to the International Talk Like Jar Jar Binks site, do get your opinions on some of the great questions surrounding our favorite Gungan and his Gungan friends. First up, we want to know, who YOU think Jar Jar Binks' best friend is? Anakin? Boss Nass? Peppi Bow? You decide!
The Gungan people are not only grand warriors, but they also have a grand amount of wisdom. Here are some popular Gungan Platitudes and their English equivalents.
"Red sky at da night, da sailors be havin' a delight, Red sky in da morning, da sailors be havin'a warnin'." - Red Sky at night, sailor's delight, Red Sky in morning, Sailor's warning.
"Seein' nosa bad bombin', hearin' nosa bad bombin', spake nosa bad bombin'." - See no evil, hear no evil, speak no evil.
"Da way ta Boss Nass' heart bein' through his tum-tum" - The way to Boss Nass' heart is through his stomach.
"Yousa da weakest link!" - A chain is only as strong as it's weakest link.
"Da early bird be gettin' da worm! - The early bird gets the worm.
"Yousa nosa judgin' or yousa bein' judged!" - Judge not, that ye be not judged.
"Nosa countin' yousa heyblibbers before yousa purchasin' dem from da heyblibber dealership!" - Don't count your heyblibbers, before you purchase them from the heyblibber dealership.
"Let da sleepin' goober fish lie." - Let sleeping goober fish lie.
"Yousa nosa throwin' Captain Tarpals out with da bathwater!" - Don't throw Captain Tarpals out with the bathwater.
"Munchin', drinkin', bein' smilin', for 'morrow wesa bein' crunched!" - Eat, drink and be merry, for tomorrow we die.
"If yousa nosa standin' da heat, den boomin' da gasser." - If you cannot stand the heat, then the stove is going to explode.
"Mesa likin' donuts!" - I like donuts!
"Do as mesa sayin', not as mesa doin'!" - Do as I say, not as I do.
"Hold mesa, like yousa holded mesa by da lake on Naboo." - Hold me, like you held me by the lake on Naboo.
"Yousa leadin' Sio Bibble ta da water, but yousa nosa makin' Sio Bibble drink it." - You can lead Sio Bibble to water, but you can't make him drink it.
Have you ever wanted a comprehensive listing of all the things that Jar Jar Binks has ever said? Well your wish has been granted! We sat through every Jar Jar Binks canon movie and TV show appearance that we are aware of, and transcribed every word he uttered. You can find that list here. You can view it all together, or filter it down to see his quotes from one individual source.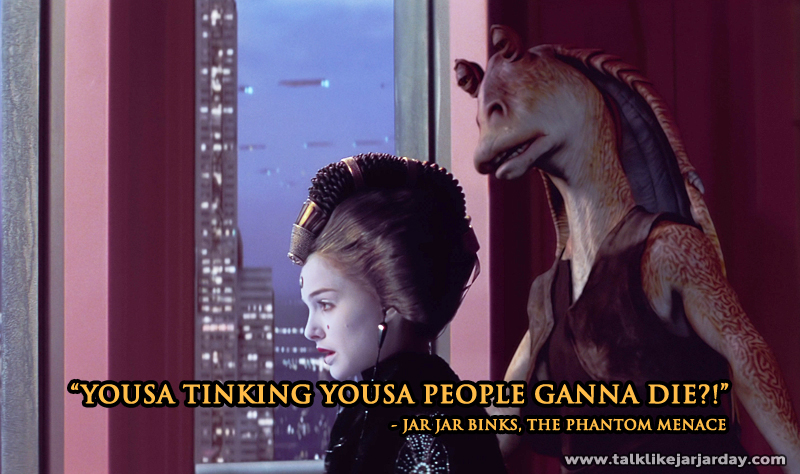 If you think we've missed a source or missed/messed up a quote, please let us know. We'll be adding to this list as Jar Jar hopefully has more canon appearances!
Have you ever wondered what happened to Jar Jar Binks after the events of Revenge of the Sith, where we last saw him walking in the funeral procession of Padmé Amidala? Of course, we all have! Well there is finally a canon answer to what happened to Jar Jar in the post ROTS era. In Empire's End, the third novel of Chuck Wendig's Aftermath Trilogy, released last week, we get a little glimpse into what happens to everyone's favorite Gungan. Check out this article for more info.