Smilen Tanksgiving everybody! We've put together a list of sayings that you're likely to say at the dinner table today, but translated into Gungan. Feel free to use them to impress your family!
"Whata a loverly munchen yousa havin' prepared per uss-ens!" - What a lovely meal you have prepared for us!
"Can yousa pleasa passen da gravy?" - Can you please pass the gravy?
"Mesa nosa can wait ta watch da biggen nuna-ball game after da munchen!" - I can't wait to watch the big football game after the meal!
"Mesa do nosa wanten ta sit at da toboo nukis table! Mesa an adult!" - I don't want to sit at the kid's table! I'm an adult!
"Mesa may disagree wit yousa politics boot Mesa do nosa disagree wit how wellen yousa cooked dis turkey!" - I may disagree with your politics but I don't disagree with how well you cooked this turkey.
"Yousa know dat Greg Kinnear bein' starrin' ina new movie? My'ven't seen hesa in anythin' ina while boot apparently hesa been workin' pitty steadily accordin' ta hisen IMDb page. Mesa always enjoyed hesa on Spake Soup." - Did you know that Greg Kinnear is starring in a new movie? I haven't seen him in anything in a while but apparently he's been working pretty steadily according to his IMDb page. I always enjoyed him on Talk Soup.
"Dis cranberry sauce bein' disgustin'." - This cranberry sauce is disgusting.
"Mesa hope yousa nosa'd cooky da stuffin' inside da turkey. Mesa do nosa haf any interest in getten salmonella poisonin'." - I hope you didn't cook the stuffing inside the turkey. I do not have any interest in getting salmonella poisoning.
"It may besa un unpopular opinion boot Mesa prefer 1995's Sabrina tada original. Greg Kinnear was un bombad delight as Harrison Ford's brother." - It may be an unpopular opinion but I prefer 1995's Sabrina to the original. Greg Kinnear was an absolute delight as Harrison Ford's brother.
"Mesa unable ta eat mashed potatoes. Theysa make mesa gag." - I am unable to eat mashed potatoes. They make me gag.
"Mesa hope yousa putter mooie-mooie marshmallows inda Sweet Potato Casserole." - I hope you put extra marshmallows in the Sweet Potato Casserole.
"My've heard dat Greg Kinnear prefers Apple Pie ta Pumpkin Pie, as do Mesa." - I've heard that Greg Kinnear prefers Apple Pie to Pumpkin Pie, as do I.
"Do yousa havin' any Tufurkey? Mesa a vegan." - Do you have any Tufurkey? I'm a vegan.
"Tanks per invitin' uss-ens over! It was enjoyable! Smilen Tanksgivin'!" - Thanks for inviting us over! It was enjoyable! Happy Thanksgiving!
Details

Written by

International Talk Like Jar Jar Binks Day

Hits: 121
Jar Jar is not a Wookiee but that doesn't mean he doesn't enjoy celebrating Life Day every November 17th! If you didn't know, Life Day is the holiday celebrated in the classic 1978 Star Wars Holiday special, which celebrates life, family, and friends.
Check out these Jar Jar related Life Day e-cards and send some to your friends and family. Because if you don't care enough to send someone a Life Day e-card, you don't care enough.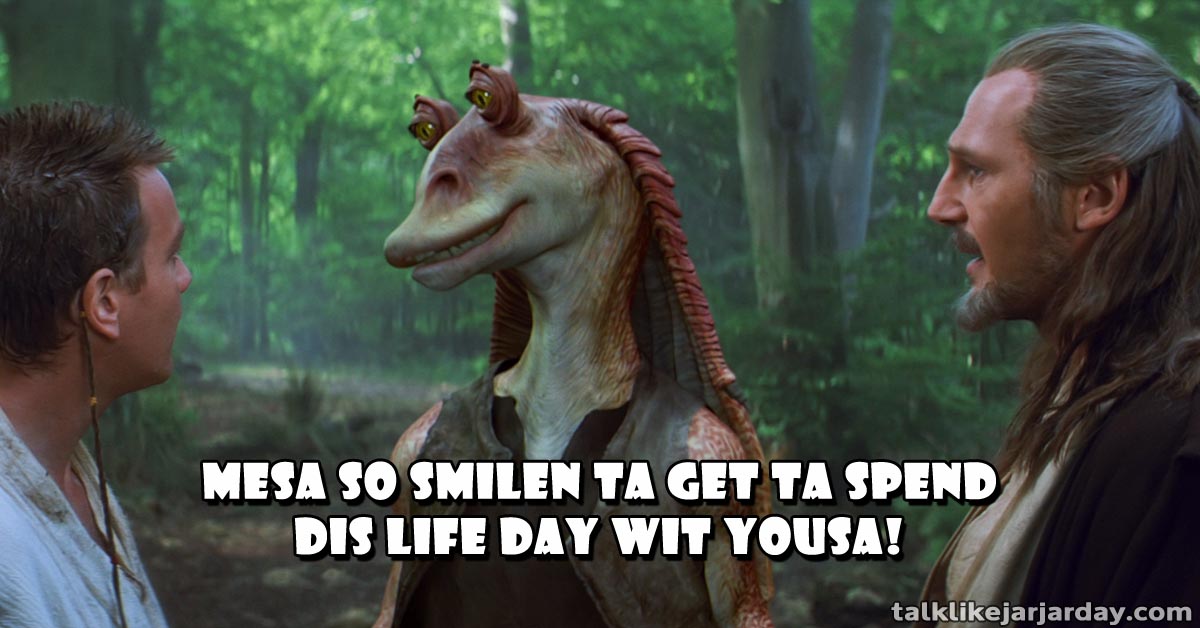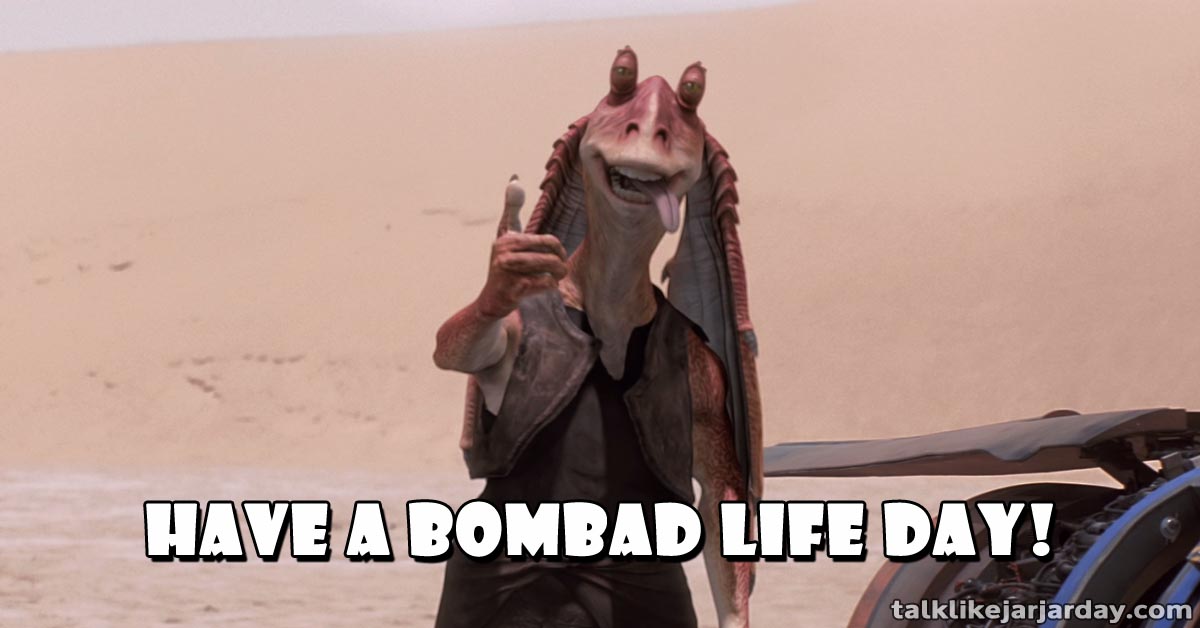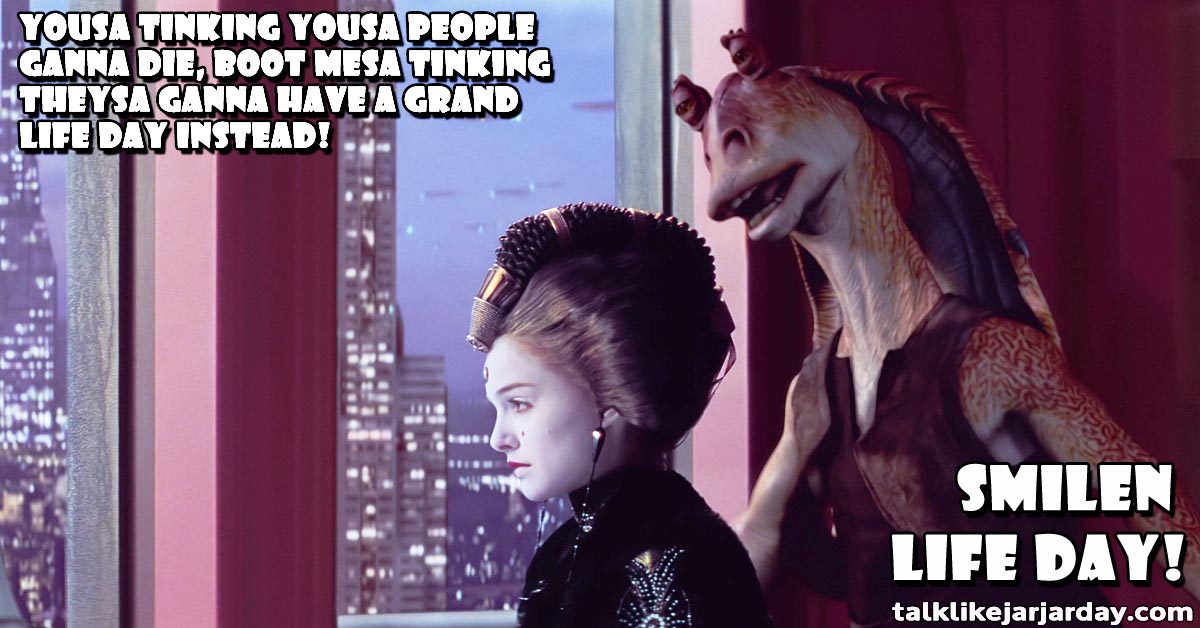 Yousa so welcome! And as a bonus, here's the traditional Life Day song, in Gungan:
Wesa celebrate un day of peace. 
Un day of harmony. 
Un day of joy wesa all can share together joyously. 
Un day dat takes uss-ens through da darkness. 
Un day dat leads uss-ens inta might. 
Un day dat makes uss-ens wanten ta celebrate da light. 
Un day dat brings da promise dat una day, wesa'll besa free ta live 
Ta laugh, ta dream, ta grow, ta trust, ta luv 
Tabe.
Happy Life Day!
Details

Written by

International Talk Like Jar Jar Binks Day

Hits: 158
In a new interview with Jamie Stangroom, published on Youtube on November 7th, 2017, Ahmed Best discusses a wide variety of topics including, but not limited to: his podcast 'The Afrofuturist', the importance of Jar Jar in motion picture history, his many projects (directing a play, a new album), and whether he'd be willing to return to Star Wars in another movie. 
He's also asked what he thinks about Jar Jar's post Return of the Jedi fate (so far) as revealed in Chuck Wendig's novel Aftermath: Empire's End from earlier this year. His reaction seems to be favorable, and he also reveals that he had asked George Lucas to kill him off in Revenge of the Sith:
"It's a very somber, very dark, eventuality for Jar Jar. Yeah I quite liked it actually. Um, It was, it was really dramatic and I think, uh,  I think a good idea to kind of sum up - I always, I always complained to George, like, when I realized that, you know, Sith was not going to have Jar Jar in it pretty much and they were moving very very far away from me, I always complained to George that I didn't get a good death. I wanted to like really be just hacked to pieces in some kind of way, you know, and George wouldn't do it."
(I find it interesting that Best wanted to have a death scene in ROTS. I've always believe that, had the character been more popular, that Jar Jar probably would have died in the final movie of the trilogy. That he would either be killed in a tragic way, giving Anakin one more reason to fall to the dark side, OR even darker, perhaps Anakin would have killed Jar Jar in anger as just another step on his path to being Darth Vader. It would be pretty shocking for Anakin to kill his childhood best friend! If this was ever the plan, it obviously didn't happen, possibly due to the negative reaction to Jar Jar after the Phantom Menace was released.)
Also of note in the interview, when asked what, if anything, he would change if he could go back in time and redo The Phantom Menace, Ahmed indicated that he had no regrets:
"Nothing. I wouldn't change anything. Um. There's nothing to change it to. There really hasn't been anything like it. And the choices that were made were choices that I think stand, you know, the test of time. Like I said, love it or hate it, you believed it and it existed so I really wouldn't change anything."
But the most interesting part of the interview, at least for me, is that Best mentioned that he's working on a book about his experiences with being Jar Jar and his involvement with Star Wars:
"I'm actually writing a book about my experience right now, and um, 'cause people keep pestering me to write a book and I've been saying no for 20 years, about writing a book about it. But, I have started, among all the other things that I do, I have started writing a book about, you know, what I went through and all of this,  and I'm hoping that that could answer a lot of the questions that people are itching to ask me about my experience with it."
No release date or title was given for this book, so it's unclear if/when we'll be able to read it, but I'll definitely be keeping a look out for it!
Be sure to check out the full interview below for all of this, and more.
Details

Written by

International Talk Like Jar Jar Binks Day

Hits: 133
Continuing our quest to convert every song into Gunganese, here are the lyrics to The Sounds of Silence by Simon & Garfunkel if it was sung by Jar Jar:
Da Sounds of Silence Lyrics
Heyo-dalee darkness, mesa old palo
My've comen ta spake wit yousa again 
Because a vision softly creepin' 
Left its seeds while Mesa was sleepin' 
Unda vision dat was planted in brain
Still remains 
Witinda sound of silence
  
In restless dreams Mesa walked alone 
Narrow streets of cobblestone 
'Neath da halo of a street lamp 
Mesa turned mesa collar tada cold un damp 
Whena mesa peepers were stabbed byda flash of a neon light 
Dat split da night 
Un touched da sound of silence 
Un inda naked light Mesa saw
Tenska tousand people, mabee mure
People spaking witout speakin' 
People hearin' witout listenin' 
People writin' songs dat voices nebber share 
Un nosa una dared 
Disturb da sound of silence 
Fools, spaked Mesa, yousa do nosa know 
Silence liken a cancer grows 
Hear mesa words dat Mesa might'n teach yousa 
Take mesa arms dat Mesa might'n reach yousa 
Boot Mesa words, liken silent raindrops fell 
Un echoed inda wells of silence 
Unda people bowed un prayed 
Tada neon gud theysa made 
Unda sign flashed oot its warnin' 
Inda words dat it was formin' 
Unda sign spaked, da words of da prophets are written Onda subway walls 
Un tenement halls 
Un whispered inda sounds of silence
Details

Written by

International Talk Like Jar Jar Binks Day

Hits: 130