It seems like there's always something new happening in regards to Jar Jar Binks these days, so we're starting a new feature here at the Official International Talk Like Jar Jar Binks Day website called The Week in Jar Jar. Every single week, occasionally, we're going to recap the important, and sometimes not so important, Jar Jar news that happened over the last 7 days. We hope you find it informative and useful! Here we go!
A new comic featuring Jar Jar and Padmé Amidala was released on Wednesday. Our two heroes go on an adventure to find an ancient Gungan relic. Will they find it? There's no way of knowing! Learm more in our review of Star Wars Adventures #18.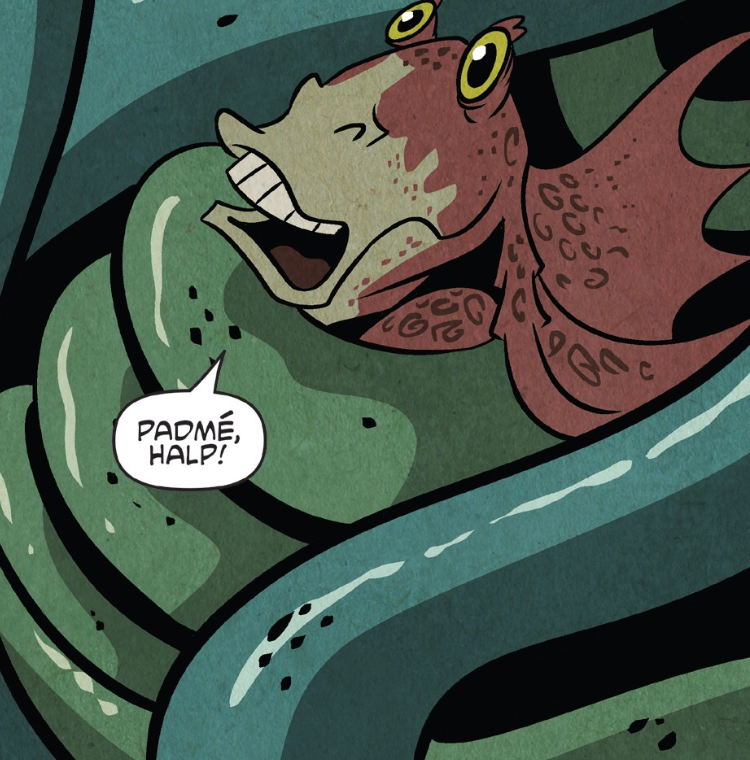 A Jar Jar hot wheels car was unveiled at Mattel Collector's Preview Event at Toy Fair NY. We're looking forward to picking one of these vehicles up!
Some pins for the upcoming Star Wars Celebration were revealed this week, the most important and adorable being our favorite Gungan. Jar Jar is one of 4 pins in Pin Set 1: The Phantom Menace 4-Pack, which will be available for sale online on Monday February 25th to Star Wars Celebration Chicago ticket holders. We're not going to Celebration, so if anyone gets a Jar Jar pin they don't want, let us know!
Ahmed Best, posted on Instagram, indicating that not only is he still working on his One Man Show, but Frank Oz is involved in helping shape it. I'm hoping we learn more about it soon, and maybe get some tour dates or information on where/when we'll be able to see it.
We're currently running a poll on Twitter and Facebook asking if you'd be interested in visiting a Jar Jar museum. Vote and let us know!
And that's it! If you think we missed something send us an This email address is being protected from spambots. You need JavaScript enabled to view it.. Have a bombad week, palos! 
P.S. Only 177 more days until the 4th annual International Talk Like Jar Jar Binks Day!