Happy New Year's Eve everyone! Say goodbye to 2020, and hello to 2021 in the best way possible - by ensuring the first thing you hear in the New Year is Jar Jar Binks saying "heyblibber" as the clock hits midnight!
Details

Written by

International Talk Like Jar Jar Binks Day

Hits: 1657
Well it's Christmas once again! Hopefully Santa brought you all of the heyblibbers and Jar Jar action figures that you asked for! Merry Christmas, palos!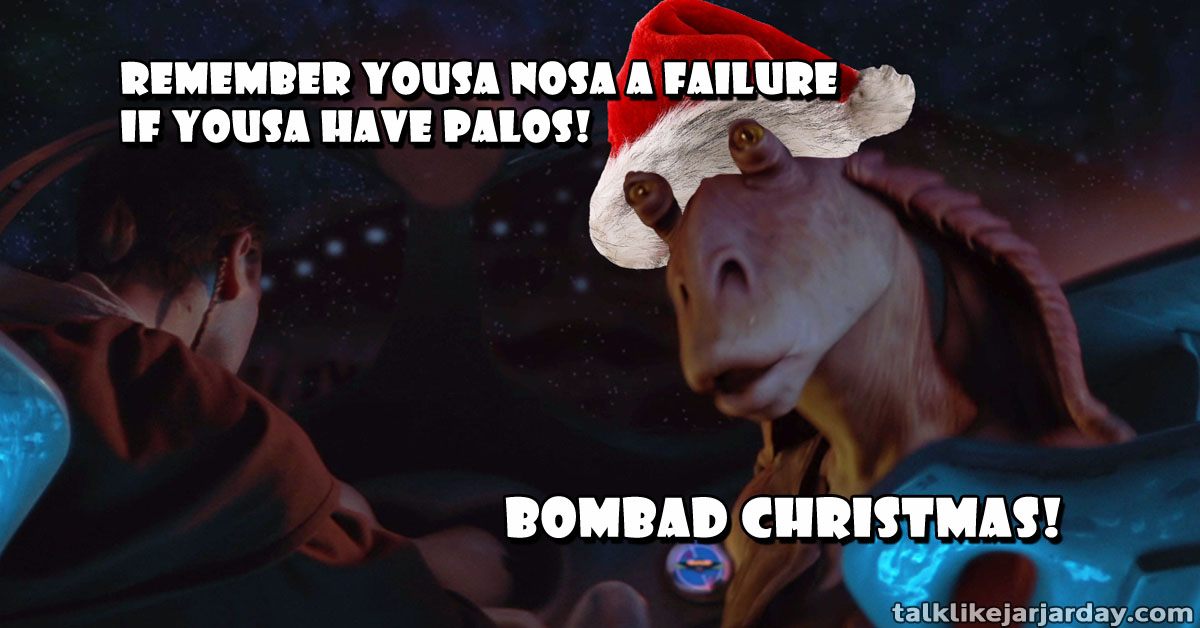 A full segment of an episode of Star Wars: Detours was unexpectedly leaked yesterday on Reddit. There's a lot of humor, Billy Dee Williams as Lando Calrissian, and most importantly Ahmed Best as Jar Jar Binks in the portion of the show released.
Details

Written by

International Talk Like Jar Jar Binks Day

Hits: 2165
Breaking news! This coming weekend, on October 4th, Jar Jar Binks and Jedi Master Kelleran Beq actor Ahmed Best will be appearing on The George Lucas Talk Show.
The George Lucas Talk Show began at the UCB Theater in New York in 2014, and since May of 2020 has been streaming weekly on PlanetScum.live. Since the COVID-19 pandemic began, the George Lucas Talk Show has raised around $100K for charity while holding watch-a-thons of all of the Star Wars movies and shows like Studio 60 on the Sunset Strip.
The George Lucas Talk Show, of course, is not hosted by the real George Lucas but by actor and comedian Connor Ratliff, perhaps best known for being fired by Tom Hanks from the Band of Brothers miniseries because he had Dead Eyes. Ratliff has also appeared in numerous TV shows like The Marvelous Mrs. Maisel, Search Party, and Orange Is the New Black.
On the humorous George Lucas Talk Show, Ratliff poses the question: What would happen if George Lucas became a talk show host after he sold Lucasfilm to Disney. He is joined by sidekick Watto (Griffin Newman) every week. Many famous guests have appeared on both the stage version of the show and the streaming series, including John Hamm, Nicole Byer, Ben Schwartz, Bobby Moynihan, Lauren Lapkus, Haley Joel Osment, Chris Gethard, and Sasheer Zamata.
Ahmed was invited onto the show back in August, when Best indicated he wanted to raise more money for charity and The George Lucas Talk Show reached out to him. Ahmed immediately responded that he was on board.
I'm in! let's find a date and I'm there.

— Ahmed BEst (@ahmedbest) August 14, 2020
Ahmed's appearance on The George Lucas Talk Show starts at 8PM ET, on PlanetScum.live. Be sure to check it out and support our favorite Gungan actor.