In a recent interview with Star Wars Episode VIII: The Last Jedi director Rian Johnson, Johnson was asked about his thoughts on a Jar Jar Binks comeback.
Rian Johnson responded in a positive manner: "I would be down with bringing old Jar Jar back - we'll see."
The interviewer then says that Jar Jar is due for a Mickey Rourke-esque like comeback, to which Johnson responds: "What if it was just like in the style of the Wrestler - except it was Jar jar and we shot it black and white."
Will we actually see Jar Jar in Episode VIII or in the new trilogy Johnson's developing? Time will tell. But the fact that he's willing to at least entertain the idea and not immediately rip on the character, indicates he's a pretty good guy. Things like this are exactly why I'm confident that Star Wars is in good hands with Rian Johnson being so heavily involved with the franchise in the coming years.
Check out the full interview below:
Details

Written by

International Talk Like Jar Jar Binks Day

Hits: 45
There's one more Jar Jar cosplayer out there and the world is a better place for it! Kyle Lusignan, a Star Wars fan from Texas, recently obtained a promotional Jar Jar Binks statue, manufactured by Pepsi Co. and Frito Lay back in 1999 for The Phantom Menace release, and modified it so he could wear it as a costume. It took Lusignan about 2 weeks to convert the statue into a wearable form, and the pictures and videos of his recent test fitting proved to be pretty popular when he shared them on Facebook. Mr. Lusignan also shared a bunch of his photos with us, and you can see them here.
This will not be the first Star Wars related costume that Kyle has worn. He has cosplayed as Revenge of the Sith Anakin Skywalker in the past and is looking forward to wearing his new Jar Jar costume to events in the future. Besides now being equipped with a realistic Jar Jar costume, Kyle also does a pretty convincing impression of the Gungan - so if you happen to run into him at a con, you're in for a real treat!
 We here at the International Talk Like Jar Jar Binks Day think that the costume looks great and are impressed with Kyle's ingenuity! We wish him lots of luck in his future adventures as Jar Jar, and hope to see more pictures and videos of his experiences as he gets out in the world as Mr. Binks. Hopefully he'll be in full Jar Jar gear on August 19th, 2018, when International Talk Like Jar Jar Binks Day rolls around once again!
Details

Written by

International Talk Like Jar Jar Binks Day

Hits: 385
Smilen Tanksgiving everybody! We've put together a list of sayings that you're likely to say at the dinner table today, but translated into Gungan. Feel free to use them to impress your family!
"Whata a loverly munchen yousa havin' prepared per uss-ens!" - What a lovely meal you have prepared for us!
"Can yousa pleasa passen da gravy?" - Can you please pass the gravy?
"Mesa nosa can wait ta watch da biggen nuna-ball game after da munchen!" - I can't wait to watch the big football game after the meal!
"Mesa do nosa wanten ta sit at da toboo nukis table! Mesa an adult!" - I don't want to sit at the kid's table! I'm an adult!
"Mesa may disagree wit yousa politics boot Mesa do nosa disagree wit how wellen yousa cooked dis turkey!" - I may disagree with your politics but I don't disagree with how well you cooked this turkey.
"Yousa know dat Greg Kinnear bein' starrin' ina new movie? My'ven't seen hesa in anythin' ina while boot apparently hesa been workin' pitty steadily accordin' ta hisen IMDb page. Mesa always enjoyed hesa on Spake Soup." - Did you know that Greg Kinnear is starring in a new movie? I haven't seen him in anything in a while but apparently he's been working pretty steadily according to his IMDb page. I always enjoyed him on Talk Soup.
"Dis cranberry sauce bein' disgustin'." - This cranberry sauce is disgusting.
"Mesa hope yousa nosa'd cooky da stuffin' inside da turkey. Mesa do nosa haf any interest in getten salmonella poisonin'." - I hope you didn't cook the stuffing inside the turkey. I do not have any interest in getting salmonella poisoning.
"It may besa un unpopular opinion boot Mesa prefer 1995's Sabrina tada original. Greg Kinnear was un bombad delight as Harrison Ford's brother." - It may be an unpopular opinion but I prefer 1995's Sabrina to the original. Greg Kinnear was an absolute delight as Harrison Ford's brother.
"Mesa unable ta eat mashed potatoes. Theysa make mesa gag." - I am unable to eat mashed potatoes. They make me gag.
"Mesa hope yousa putter mooie-mooie marshmallows inda Sweet Potato Casserole." - I hope you put extra marshmallows in the Sweet Potato Casserole.
"My've heard dat Greg Kinnear prefers Apple Pie ta Pumpkin Pie, as do Mesa." - I've heard that Greg Kinnear prefers Apple Pie to Pumpkin Pie, as do I.
"Do yousa havin' any Tufurkey? Mesa a vegan." - Do you have any Tufurkey? I'm a vegan.
"Tanks per invitin' uss-ens over! It was enjoyable! Smilen Tanksgivin'!" - Thanks for inviting us over! It was enjoyable! Happy Thanksgiving!
Details

Written by

International Talk Like Jar Jar Binks Day

Hits: 61
Jar Jar is not a Wookiee but that doesn't mean he doesn't enjoy celebrating Life Day every November 17th! If you didn't know, Life Day is the holiday celebrated in the classic 1978 Star Wars Holiday special, which celebrates life, family, and friends.
Check out these Jar Jar related Life Day e-cards and send some to your friends and family. Because if you don't care enough to send someone a Life Day e-card, you don't care enough.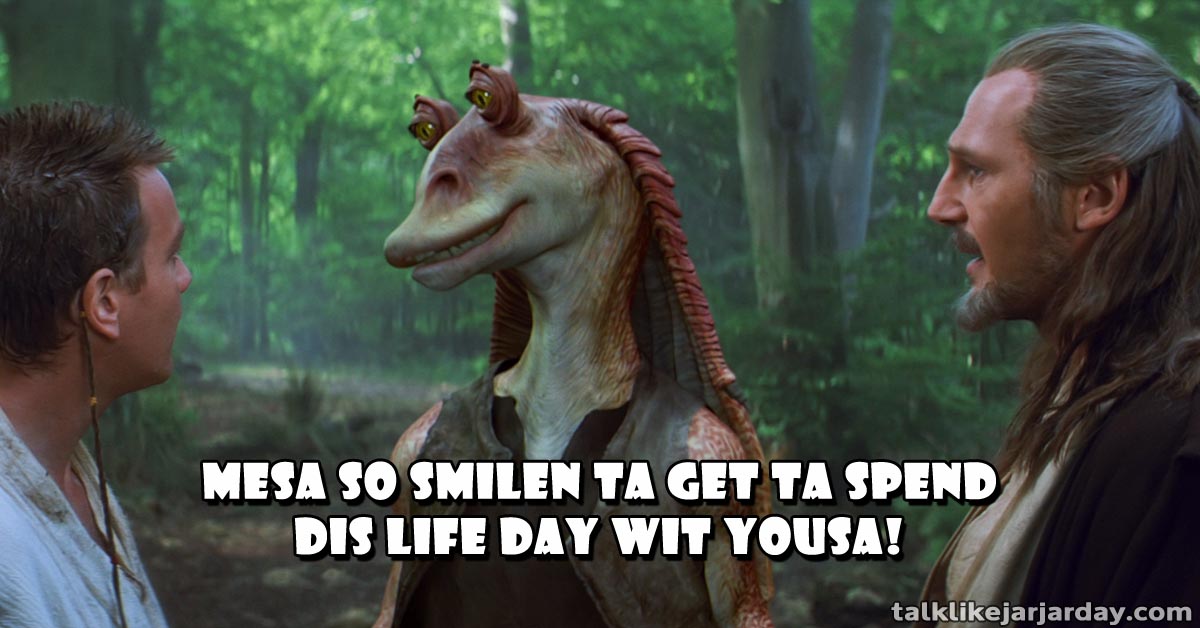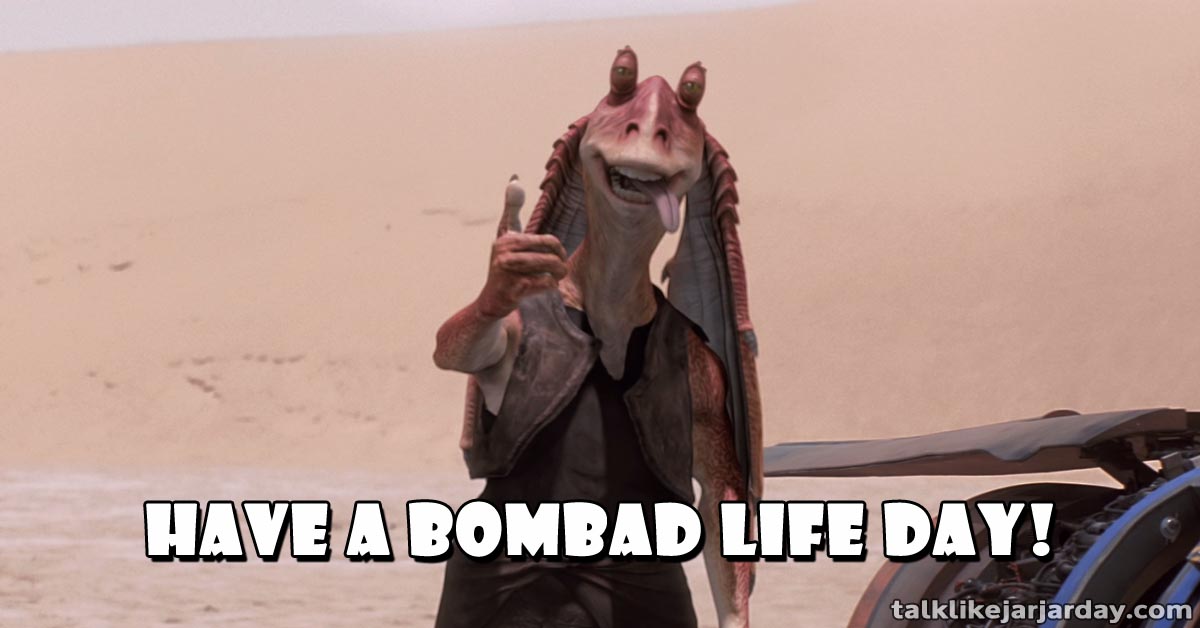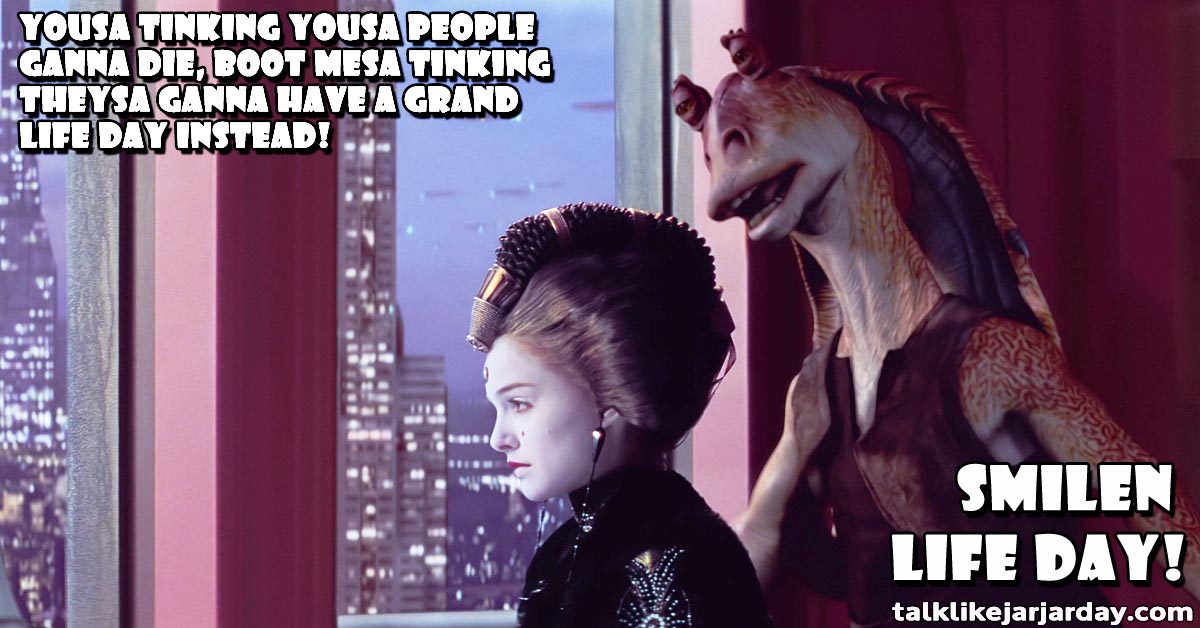 Yousa so welcome! And as a bonus, here's the traditional Life Day song, in Gungan:
Wesa celebrate un day of peace. 
Un day of harmony. 
Un day of joy wesa all can share together joyously. 
Un day dat takes uss-ens through da darkness. 
Un day dat leads uss-ens inta might. 
Un day dat makes uss-ens wanten ta celebrate da light. 
Un day dat brings da promise dat una day, wesa'll besa free ta live 
Ta laugh, ta dream, ta grow, ta trust, ta luv 
Tabe.
Happy Life Day!
Details

Written by

International Talk Like Jar Jar Binks Day

Hits: 64